Blossom Cork Yoga Mat | 4.5MM | *PRE-ORDER
THIS MAT SHIPS FREE TO CANADA
*We've been selling out fast! This mat is on pre-order and ships on September 24, 2020. Be the first to get it so you won't miss out again! It's also on a pre-order sale back in stock.

R e t h i n k  c o l l e c t i o n
Features
72" x 24"

 | 2.8

 kg

Carry strap included as a gift!

thickness: 4.5mm (standard thick)

100% natural cork and tree rubber
ultra-grip for sweat, lose the towel 
plant based & sustainably harvested
for a non-toxic practice
no pvc, per, tpe or harsh chemicals
perfect for hot yoga, gentle yoga, meditation, stretching
naturally anti-microbial eliminating odor
plastic free packaging
Spray with water to activate sweat-grip in cold practices until body is warm.
Backed by a 1 Year Limited Warranty ~ find details here.
Scoria Gives
Every mat sold = 10 meals to a child in need ~ learn more
Description
Don't fret the sweat, embrace it. The Scoria Cork mat delivers supreme traction when sweating with no slip.
Please note: due to the difference of digital screens, colours may differ slightly.
Use & Care
After sweating, lay the mat to dry, then roll & store.
Always roll CORK side out.
Store in shade and avoid long sun exposure.
To clean, simply wipe with a cloth, a little soap and warm water.
Not machine washable.
Yogis featured
@brightxsalted.yoga, @armojam, @kerispilatesroom, @thatfitveganchick, @matthewbonasyoga, 
Customer Reviews
Write a Review
Ask a Question
08/05/2020
Amy S.
Canada
Amazing
This mat has been absolutely amazing so far and I've gotten tons of compliments on it! The cork is so, so soft and it's thick enough that sore/injured knees don't cry during your practice but not so thick that it's cumbersome. When you first get it, there's a mild smell that goes away quickly, not like the usual overpowering & lingering smell many have. It was really important to me to find a mat that's environmentally & socially ethical, so it's nice that there's also very little packaging and a portion of the money is being used for communal good. Overall, this is exactly what I've been looking for and it's really beautifully made :)
08/05/2020
Amélie T.
Canada
Softest mat ever !
Love, love, love it ! Love the feel of the mat, and the design.
06/26/2020
Aspyn L.
Canada
Best mat ever!
I've had this mat for close to a month now and it may be the best purchase I've ever made! I get really sweaty hands and feet when I do yoga and on my old mat I kept sliding out of poses so I could really only take my practice so far. That is not the case with this mat, the cork is so grippy when you're sweaty! I have gotten so much better in my practice since getting this mat. It's so soft, not super thick but enough to make you feel supported and long enough that I never feel like I'm falling off. I also can't get over the social and environmental impacts of this mat. Scoria, you really nailed it!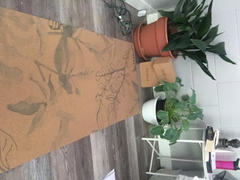 06/25/2020
Amy L.
Canada
Love it!
This is a beautiful mat. I feel healthy using it. It's very soft to the touch and is clearly constructed very well. I love the design and the customer service was wonderful. My only tiny wish is that it had a little bit more cushion, but that's just personal preference. I would still recommend this mat. :)
06/19/2020
JS
United States
Sweat Sponge!
I've been using a standard foam yoga mat for a little over a year, and wanted to understand my practice and needs before investing in a higher quality mat. I did tons of research and comparisons, and ultimately chose this beauty. What I love about this mat is how absorptive it is! I sweat buckets in hot yoga, and this mat absorbs every single drop like a sponge and increases grip while doing so. The mat is a good, hefty weight and won't fold or curl at the ends like I've seen other cork mats doing. I was worried the 4.5mm thickness wouldn't be as supportive as my foam mat's 6mm, but it is more than enough because the rubber layer is so dense. The texture is very smooth and easy to clean. I don't have to worry about unwelcome dog hair showing up at the studio. I love how the natural color of the cork and all-over print will hide dirt and marks very well as the mat wears out over time. There is a rubber scent when new, but fades quickly with use and you'll be left with that beautiful earthy smell of the cork. Also, extra points for being naturally anti-microbial! However, this mat can be quite slippery if your hands are dry, or if you're practicing in a colder setting. I've accidentally got a rope burn kind of feel a few times when sliding the tops of my feet over the dry mat too quickly. This lack of friction can be remedied by keeping a spray bottle close by to wet the mat or your hands with. If you choose to do that, you'll have to spritz quite often throughout your practice, because not only is the mat super absorptive, but it's quick drying as well. I admire the company's values and am happy to contribute to their cause. Overall, very very happy with my purchase and can see myself supporting this company again when in need of another mat.